ORACLE / MICROS

If you use an EPOS system in your place of work, there is a good chance you are using one made by either MICROS or Oracle. These systems are the industry standard and have revolutionised the way businesses across the board operate. However, like any machine, they can break. That is where Elcomatic come in.
Elcomatic is an approved vendor for MICROS and Oracle systems. In conjunction with the sheer number of this brand of devices that we repair, this means that we can have everything fixed quickly, reliably, and effectively.
Some of the models we fix most often are:
Micros/Oracle Workstation -WS4-400614-001/500614-001
Micros/Oracle Workstation -WS4 LX-400714-001
Micros/Oracle Workstation PCWS 2010-522595-110/522595-310/523595-110/523595-310 + many more
Micros/Oracle Workstation WS5-400814-001/400814-020/400814-021
Micros/Oracle Workstation PCWS 2015-423695-110/423695-120/423695-310/423695-320 + many more
Micros/Oracle Workstation-WS5A-400814-101/400814-103/400814-104/400814-122
Micros/Oracle Workstation WS610-400914-102/7315640/7339597/7331285
Micros/Oracle Workstation WS620-7321803/7346027/7341731
Micros/Oracle Workstation WS650-7321804/7341732
Micros/Oracle WS6 Base-400935-001/7315641/7321805
Micros/Oracle M-Tablet R-Series-400962-000/400962-002/400962-102 + many more
Micros/Oracle M-Tablet E-Series-400963-008/400963-011
Micros/Oracle M-Station-400374-020/40034-030
Micros/Oracle Workstation -WS310
Micros/Oracle Workstation -WS310R
Micros Remote Cluster Controller-400419-001
Micros/Oracle Workstation -WS3-400412-001
Micros/Oracle Workstation -KWS4-400700-001
Micros/Oracle Eclipse
Workstation-400495-064/400495-100/400495-225/400497-001/400497-002/400497-003/400500-001/400500-003 + many more
Micros/Oracle Displays-400701-001/400701-101/400801-001
Micros/Oracle RDC-700876-200/700876-210
Micros/Oracle Bump Bar-700879-104/700879-105/700879-115/700879-116/700879-205/700879-210/700879-220
Micros/Oracle Printers-400489-507/400489-514/400490-123/400490-125/400490-126/400490-159/TM-T88ii/TM-T88iii/TM-T88iv/TM-T88v/TM-P60ii
WHY CHOOSE ELCOMATIC?
XXX
Specialised Personnel: To place people in charge of fixing specific devices or brands, you need to be working with a volume that warrants that kind of distribution of labour. We operate out of a dedicated repair facility, which means we consistently work with enough product to have different personnel assigned to specific families of products.
This experience is invaluable when it comes to getting your apparatus back to you fast. Because our personnel work with the same style of product day in and day out there is nothing they come across almost nothing, they have not experienced before. Because of this approach to repair, our skilled workforce will fix your problem hardware easily and efficiently, significantly reducing the disruption to your business.
XXX


Expert Diagnosis
Our familiarity with the product means we can troubleshoot these items quickly. Ensuring that your items are repaired quickly and returned in great condition with a quick TAT.
XXX


Conscientious Service
It is one thing to be good at servicing and repairing EPOS devices, but this is only half the battle when it comes to satisfying our customers. We undertake a stringent sequence of processes to make sure you conclude your business with us not only with a fully-functional machine but also happy with the entire procedure.
After we have completed your repair, we will test the device thoroughly to make sure everything is functioning exactly as it should be, removing the risk that the fix is temporary. This involves a soak test which verifies the device's ability and performance over an extended period. We will then package the device securely and free of charge, ensuring that the return trip does not leave you back where you started.
OUR POLICIES
XXX


Free Delivery
Once we have repaired your device we will send it back to you for free.

Fixed Price
Repairs are set at a fixed price depending on the device in question.

Ad Hoc
Repairs are charged labour + parts costs based on individual returns.

Contractual Repairs
We offer annual repair contracts, giving you peace of mind no matter how often your EPOS systems go wrong.

Free Quotes
Using our practical experience with the wide range of machinery which we service, we can offer you an up-front price estimation on how much it will cost you. We can also assess what you can expect to be involved in the repair before we even get hold of the device so you know exactly where you stand.

No Fix, No Fee
From time to time, we receive apparatus that is either A. beyond repair or B. so expensive to repair it is best just to replace it. When this happens, we will not charge you a penny.
GET IN TOUCH
XXX
If any of your EPOS devices have broken down and are limiting your ability to run your business, get in touch with Elcomatic today. Not only are we unrivalled in our ability to repair and service EPOS devices, but our customer service is second to none.
To make an inquiry or book a job, give us a call on 01294 274 914 today or visit out 'Contact' page to book a job, request a quote or ask us a question.
WE DON'T BELIEVE IN HIDDEN CHARGES
FREE DELIVERY
Free UK wide delivery
back to customer

FIXED PRICES
Fixed price & ad-hoc
annual repair contracts

FREE QUOTES
Free quotes and
repair assessments
NO FIX, NO FEE
If we can't fix it,
you don't pay
HOW OUR REPAIR PROCESS WORKS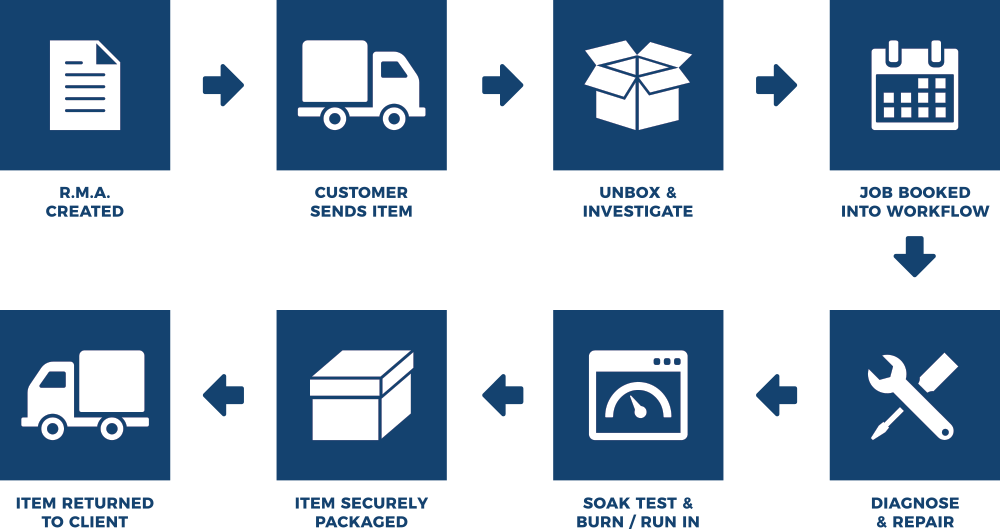 +44 (0) 1294 274 914
info@elcomaticepos.com
Elcomatic  |  16 Kyle Road  |  Irvine  |  Ayrshire  |  Scotland  |  KA12 8JU