TOUCHSCREEN TILLS

It is inconvenient when any part of an EPOS system malfunctions. Businesses around the world are increasingly using these devices as the foundation of their daily operations, meaning that when something goes wrong, the foundation crumbles, and major disruption follows.
However, when a till breaks, it comes with a whole host of other problems. Firstly, the drawer means you cannot process cash in your regular way. You may have to store some money from transactions in another unsecure location, leaving it open to theft. Your entire cashing up and banking process could be disrupted.
In other cases, your screen may have broken, leaving you unable to process transactions. Again, this entirely turns your procedure for serving customers on its head, meaning you may have to take a written note of everything that is going through or operate a till short.
At Elcomatic we fully appreciate how fundamental tills are to the day to day running of any business which processes physical transactions. We are committed to getting the device back to as good as new, fully tested, and back in its rightful place as quickly as possible.
To arrange a job today, give us a call on 01294 274 914.
WHY CHOOSE ELCOMATIC?
XXX
Specialist Till Technicians
With a lot of repair companies, you will be handing your device over to someone who might never have worked on your particular model or issue before. At Elcomatic, we have a high enough turnover that we can distribute our personnel into specific groups, creating specialists in families of devices or brands.
This means that when your malfunctioning device reaches our dedicated repair facility, it will be handed over to a technician who works on devices like yours day in and day out. We will not come across a problem that we have not found, and dealt with, before.
XXX


F

antastic Customer Service
If there is anything we do not know about EPOS systems, then it is not worth knowing. This means we fully understand how impossible it is to run a business properly when your EPOS system is on the fritz. This is why we are fully committed to providing the very best customer service which ensures the disruption caused to your business is kept to an absolute minimum while we execute your repair using the most efficient and cost-effective methods.
OUR POLICIES
XXX


Free Delivery
As soon as we have your device working properly, we will send it back to you at our own cost.

Fixed Price
When it comes to a specific repair on a particular device, our prices remain the same. You can be sure when you deal with us you are being charged fairly.

Ad Hoc
Repairs are charged labour + parts costs based on individual returns.

Contractual Repairs
Many businesses operate using so many EPOS devices that things going wrong is a regular occurrence. By establishing a contract with us, you can simply package up the problem device and send it off every time this happens without worrying about the associated costs.

Free Quotes
We will offer a quote before we begin working on your EPOS equipment so that you can make an educated decision and budget appropriately.

No Fix, No Fee
Depending on the device and nature of the repair needed, it is not always cost-effective to carry out a fix. When this does happen, we will explain the situation to you, advise on how to move forward, and you will not be charged a penny.
GET IN TOUCH
XXX
Without a till managing the cash within your business and carrying out transactions becomes very difficult very quickly.
If your till has broken down and you need help quickly and at a reasonable price, call us today on 01294 274 914 or visit our 'Contact' page.
We also have two forms for booking in a job or organising a quotation, if you would like to jump straight to that stage.
WE DON'T BELIEVE IN HIDDEN CHARGES
FREE DELIVERY
Free UK wide delivery
back to customer

FIXED PRICES
Fixed price & ad-hoc
annual repair contracts

FREE QUOTES
Free quotes and
repair assessments
NO FIX, NO FEE
If we can't fix it,
you don't pay
HOW OUR REPAIR PROCESS WORKS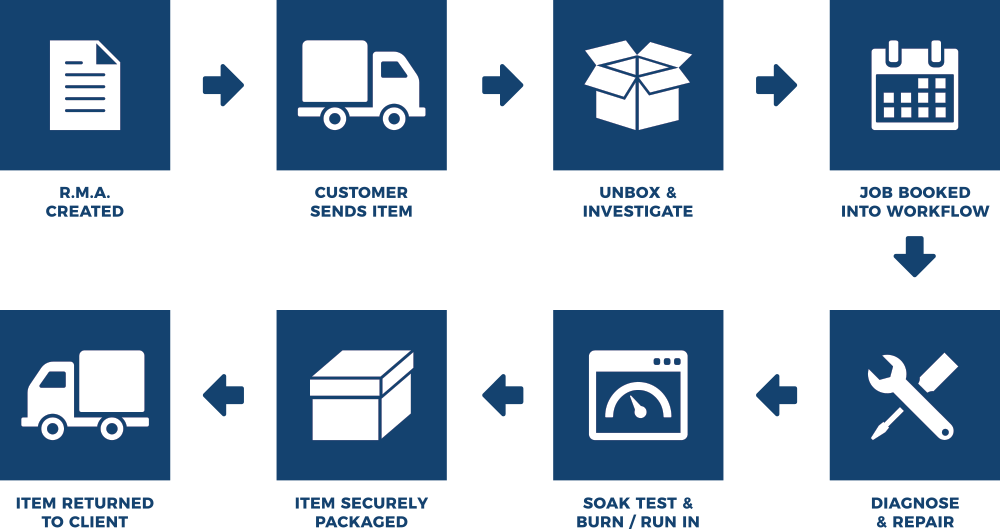 +44 (0) 1294 274 914
info@elcomaticepos.com
Elcomatic  |  16 Kyle Road  |  Irvine  |  Ayrshire  |  Scotland  |  KA12 8JU