WORKSTATIONS

If all of your barcode scanners, receipt printers, chip and pin devices and so on are organs, then your workstation is like the brain. In other words, without your workstation, the rest is almost entirely useless. We appreciate how integral EPOS systems have become to businesses throughout the world and know how important it is that you get your machine back quickly and fully operational.
Workstations are also the most complicated and expensive device you are likely to have within your EPOS system and so you have to make sure you are entrusting it to certified and qualified professionals. Not only do you have to make sure you get it back in operation quickly, but you have to make sure the technicians doing the repairs do not do more harm than good.
Elcomatic is a leading and certified service provider for EPOS maintenance and repair. We combine our conscientious service, unmatched expertise, and practical, cutting-edge repair facility to keep all of your critical equipment in fully working order both quickly and cost-effectively.
Some of the main makes we fix most often are:
If your item's brand is not on the list please contact us.
       
IBM
Toshiba
ELO
Squirrel
Digipos
NCR
Posligne
J2
MultiQ
3M
Panasonic
Epson
WHY CHOOSE ELCOMATIC?
XXX
Specialist EPOS Repair Staff
When it comes to getting such a critical bit of kit as an EPOS workstation, you want to make sure you are dealing with the best. At Elcomatic, we have such a high turnover that we can appoint staff to specific brands, models, and families of devices, meaning out personnel know everything they need to know about their specific niche.
We have a dedicated repair facility which means we have come across and dealt with every kind of problem and breakdown you can imagine when it comes to EPOS systems. You can be sure we will already have a plan of action in place for whatever the problem may be.
XXX


Fantastic Customer Service
Having the very best skills in repair and maintenance is important, but we also appreciate the value of outstanding customer service. We will do everything we can to accommodate all of your needs and get your device repaired quickly and efficiently, returning it to you at the very first opportunity.
OUR POLICIES
XXX


Free Delivery
We are committed to keeping our pricing as cheap as possible, and so will not charge you for the return shipment!

Fixed Price
Good service goes hand in hand with transparency. We have fixed pricing, meaning you will always pay the same for the same repair on the same device.

Ad Hoc
Repairs are charged labour + parts costs based on individual returns.

Contractual Repairs
We offer contractual repairs for businesses with multiple EPOS devices which are likely to have a regular and continuous need for repairs. This means when something goes wrong you can send it straight to us, without worrying about the attached costs.

Free Quotes
Because what we do is so niche and complex there is a lot of scope for 'hidden' charges. We don't think this is right, which is why we will offer an upfront and free of charge quotation before starting work.

No Fix, No Fee
We will not come across a device that is not repairable, although we can come across issues where it simply is not cost-effective to repair it. When we can't fix your device, you will not pay a penny.
GET IN TOUCH
XXX
Workstations are far too important, and frankly expensive, to put in the hands of anyone less than the best. It is essential that the company you choose to be responsible for any necessary repairs have the experience, certification and resources to execute the repair to the highest standard. Look no further than Elcomatic.
To book in a job today, or to many any inquiries, phone us now on 01294 274 914.
Alternatively, if you would rather book in a job online or receive a fully structured quote, fill in either of the forms available on our 'Contact' page.
WE DON'T BELIEVE IN HIDDEN CHARGES
FREE DELIVERY
Free UK wide delivery
back to customer

FIXED PRICES
Fixed price & ad-hoc
annual repair contracts

FREE QUOTES
Free quotes and
repair assessments
NO FIX, NO FEE
If we can't fix it,
you don't pay
HOW OUR REPAIR PROCESS WORKS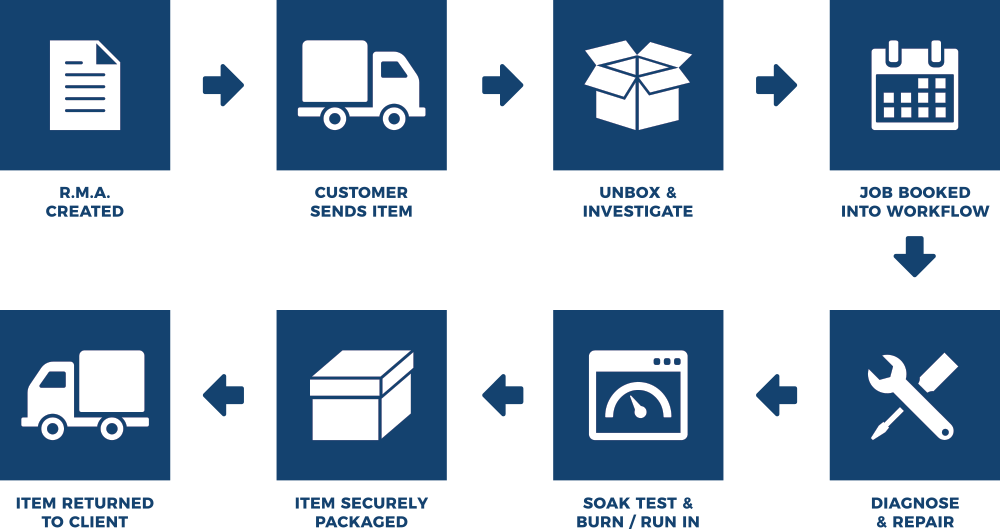 +44 (0) 1294 274 914
info@elcomaticepos.com
Elcomatic  |  16 Kyle Road  |  Irvine  |  Ayrshire  |  Scotland  |  KA12 8JU