PCs & LAPTOPS

On top of repairing specialised equipment such as EPOS devices, we also repair more general equipment such as PCs and laptops. We do not have to outline here why computing power is so essential to modern business, and we do not have to remind you how disruptive it can be to lose access to your computer and all of the files stored on it.
When something goes wrong with your Windows or MAC computer, you can rely on Elcomatic to diagnose and rectify the problem in the most cost-effective way possible. We have specific computer specialists who have the practical experience to have everything repaired quickly and effectively so that you can have your most important tool back in working order as soon as possible.
There are hundreds of reasons why your computer can break down, however, what follows is a selection of the main reasons why customers send their hardware to us for repair:
HOW CAN ELCOMATIC HELP?
XXX
PC or Laptop Refusing to Turn on at All
When your Windows or MAC PC/laptop is not turning on at all, you might panic thinking that every document you had stored on it is lost. While every case is different, it is very likely that your files will remain safe on your hard drive, even when your device has met a critical failure.
When we get the device, we will use various methods to identify where the problem has occurred. All going well, we will replace the problem part and get your computer back up and running with all of your files and data.
XXX


Computer Continually Freezing/Restarting
There are two reasons why a computer will freeze and/or restart. The first is a software problem such as a virus, trojan, or adware. When the software begins to cause issues your system may restart in order to prevent the malicious software from doing any more damage. Our computer technicians will conduct tests to isolate the software before taking a series of measures to rectify the issue.
The problem may also be related to hardware. For example, if the fans are not working properly, the computer may overheat and restart. Alternatively, the graphics card may be unstable which can also cause the computer to malfunction. Our specialists will conduct a series of tests to isolate the problem feature in your PC/MAC/laptop and replace it.
XXX


Computer Failing to Start
Your PC/MAC failing to start may be the result of something relatively benign. For example, the computer may be trying to start by loading your operating software from an external source. Make sure every USB stick, digital camera, CDs, or anything else which can store data, is removed, then try to restart.
If this does not fix the issue, then the problem may be a hardware problem. Perhaps one element of the computer is not functioning correctly, or maybe something has not been appropriately configured. This is something that our technicians can diagnose when we get our hands on the computer.
XXX


Computer Is Incredibly Slow
Are you finding that your computer is taking an age to turn on? Is it sluggish in bringing up the internet? Does it take minutes to open your e-mail?
Again, there is a multitude of reasons as to why your computer might be slow. One reason may be because there has been a build-up of redundant files. Another could be unnecessary programmes, and viruses, running in the background. It may be something as simple as faulty RAM.
Whatever the reason, it is not a death sentence for your computer. Our technicians can run a series of tests to identify exactly what is slowing down your computer and undertake the necessary fix.
XXX


Faulty Peripherals: Keyboard, Mouse and Printer
If one of your computer peripherals is not working as they should be, it can be an easy fix. It may be a case of faulty drivers which can you could rectify by plugging the device into a separate USB slot. Alternatively, it may be that the actual device is defective, which in all honesty may be fixed most cost-effectively by replacing it altogether!
If none of your devices are working with your computer, then it is likely a problem with the PC or MAC itself. Our technicians will be able to inspect this, analyse what the issue is, and fix it quickly.
GET IN TOUCH
XXX
From anything from cracked laptop screens and faulty fans to crippling viruses or no life at all, whatever the problem our specialised MAC and Windows technicians will be able to find out what the problem is and getting everything back up and running and properly before you know it.
To make an enquiry about our computer repairs or to book in a job today, give us a call on 01294 274 914 today.
Alternatively, visit our 'Contact' page and complete the form today and one of our personnel will reach out to you as soon as we can.
WE DON'T BELIEVE IN HIDDEN CHARGES
FREE DELIVERY
Free UK wide delivery
back to customer

FIXED PRICES
Fixed price & ad-hoc
annual repair contracts

FREE QUOTES
Free quotes and
repair assessments
NO FIX, NO FEE
If we can't fix it,
you don't pay
HOW OUR REPAIR PROCESS WORKS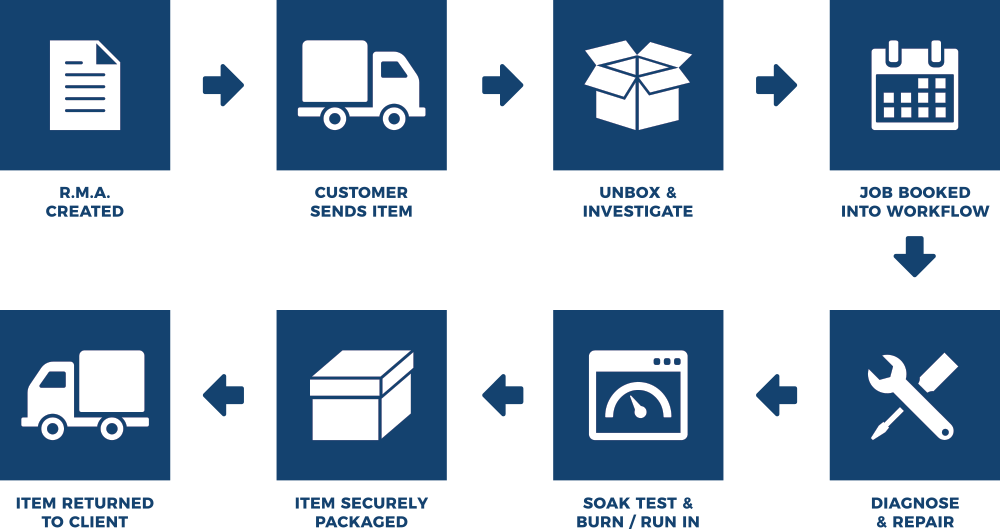 +44 (0) 1294 274 914
info@elcomaticepos.com
Elcomatic  |  16 Kyle Road  |  Irvine  |  Ayrshire  |  Scotland  |  KA12 8JU