TABLETS

It didn't take long for people to realise that with the skyrocketing functionality of smartphones, a similar device with a bigger screen would be of great use in numerous contexts. When the iPhone came to be in 2007, only three years later the tablet followed suit. Now, you can find them in homes throughout the country and at the heart of businesses of all scales across all industries.
Having the functionality of tablets at the heart of our businesses can make everything more fluid. You can have a single hub for anything from processing payments, to taking inventory, to gaining feedback from customers. The problem, however, is that they are a foundation and when they go, everything else is compromised.
If your business tablet is malfunctioning, or if you just want to get your personal tablet back in use, phone us now on 01294 274 914.
APPLE & ANDROID SPECIALISTS
XXX
Because we have a dedicated repair facility with hundreds of devices coming through every week, we can assign our staff to specific brands or families of devices. This means that not only do our technicians spend all day every day fixing similar devices, but they get to work on a wide variety of products within their own field.
In summary, regardless of whether you have a broken Apple iPad or any type of Android device, we have specialists on-hand who will know the device inside and out. When you organise a repair with Elcomatic, you can be sure your tablet is in safe and knowledgeable hands.
We offer repairs on a vast range of products, with some of the main ones being below : If item not on the list please contact us.
Apple
iPad, iPad 2, iPad 3, iPad 4, iPad 5, iPad air, iPad air 2, iPad Mini, iPad Mini 2, iPad Mini 3, iPad Mini 4
Samsung Galaxy Tabs
Please contact us with model.
XXX


Broken Screens
When it comes to modern screens, manufacturers have to strike a balance between tough and brittle. If they are too shatter-resistant, then they will be susceptible to scratches and chips. Since, all going well, this is more of a problem than being dropped, screens tend to be vulnerable to shattering or cracking when hitting the ground.
Because of this, the majority of tablet jobs that come through our designated repair facility tend to be broken screens. Provided we have the part available, we can have the device back up and running within the hour and on its way back to you. If we do not have the part (for example, we cannot stock every size of android screen at all times), there will be a slight delay as we wait on the part being delivered.
XXX


Water and Liquid Damage
Water and other liquids are the enemies of electronic devices. Unfortunately, there is no easy fix, other than letting it dry off and hoping for the best (the rice trick is a myth, trust us, Google it!). However, even though it may seem that the device is finished for good, handing it over to some professionals can give it a new lease of life.
Liquid has the ability to fry certain components within electronic devices, but by swapping out some parts and doing some general maintenance, we will be able to get your device back to you as good as new. Besides, if we can't, we will not charge you a penny.
XXX


Speakers, Ports, & Camerase
Tablets can do so much that while 99% of features might be behaving correctly, a singular absolutely fundamental part can malfunction and render the whole thing useless. Luckily, these repairs are usually as simple as swapping out the problem part and putting everything back together.
In short, if your camera isn't working for inventory management, if your charger isn't working, or if the speaker is silent, just send it off to Elcomatic, and we will have everything fixed up as quickly as we can and back on its way to you.
GET IN TOUCH
XXX
We appreciate how key your tablet is to your business, and the disruption that can be caused without it can cause serious issues when it comes to your day to day operations and bottom line. You need to have a service which you can rely on to get the repair done both quickly, efficiently, and cost-effectively. That is where Elcomatic, our dedicated repair facility, and our repair specialists come in.
To organise a job today, or if you have any questions about our service and what we can do for you, give us a call now on 01294 274 914.
Alternatively, if you would like to inquire about a quotation or any other query, you can fill in the form on our 'Contact' page and one of our personnel will get back to you as soon as they can.
WE DON'T BELIEVE IN HIDDEN CHARGES
FREE DELIVERY
Free UK wide delivery
back to customer

FIXED PRICES
Fixed price & ad-hoc
annual repair contracts

FREE QUOTES
Free quotes and
repair assessments
NO FIX, NO FEE
If we can't fix it,
you don't pay
HOW OUR REPAIR PROCESS WORKS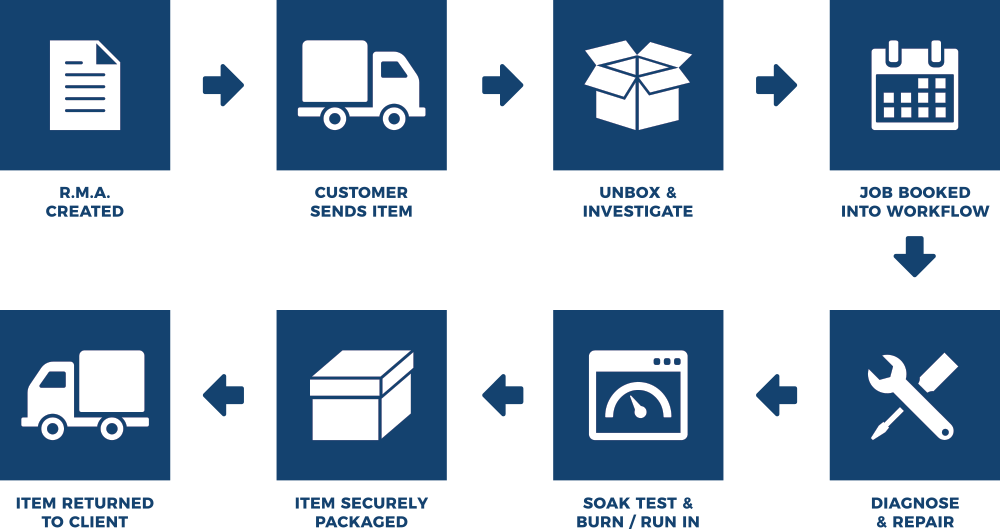 +44 (0) 1294 274 914
info@elcomaticepos.com
Elcomatic  |  16 Kyle Road  |  Irvine  |  Ayrshire  |  Scotland  |  KA12 8JU